Of course you know him! This channel of communication is (almost) as old as the Internet: email.
In recent years, the hair of the beast has been lost. Declining popularity due to abusive use and poor control by marketers. Above all, don't give in too quickly to his abilities to win over your prospects.
Powerful Communication Relay Sending email is essential to reach more customers. If done, at least with relevance and incorporated into a multi-channel communication strategy. You can frequently communicate with your prospects through mass mail or notify them of new products (catalog, products, events, promotions, etc.).
According to Mailjet, 1 in 7 emails don't make it to your inbox. The messages can end up in the spam folder, or they can sometimes be blocked by ISPs (Internet Service Providers) like Orange, Free, and SFR. "Deliverability" is a general term for all issues that prevent e-mail from reaching its recipient.
According to 82% of French interviewed by Morar Consulting for Mailjet, email will remain the main channel of communication in the next 10 years, ahead of SMS and Facebook.
So, how do we do? some advices.
Get relevant database
To create a good guide for prospects that you can then contact during your next email campaigns, you should build on your own website. People browsing your pages are the first to be worried about receiving your news. So make it easier for them and sign up for your newsletter with a noticeable listing on your site. Do not flood them with questions at this time: a first and last name and an email address will suffice. When organizing contests (both online and in physical stores), you will also be directed to collect interesting information and contacts.
The same, during online surveys or requests for opinions about your products. In other cases, you can set up affiliate registration and engagement strategies with other companies to share information and email addresses. You will pay special attention to your contacts database by updating it regularly, in particular by deleting inactive contacts, by filling in fields when you have new information about a potential customer. It will also help you segment your database, which is an additional feature that is quite convenient for a successful email campaign.
opt-in rules
Companies are strictly prohibited from using information collected in public places, particularly in forums, social networks, and directories without the consent of their owner. Having an 'enable' file means having a 'clean' file that you just created. If you have purchased or rented files, you should, for example, ensure that the service providers who provided you with this data have taken the correct initial approach. You have the right to the information, if asked, to communicate with the people whose email addresses you collect: use, confidentiality, security, recipients, access, modification, and withdrawal of information. It is therefore essential that all of your emails contain the possibility to unsubscribe. Accompanied approach is to erase the collected data as quickly as possible.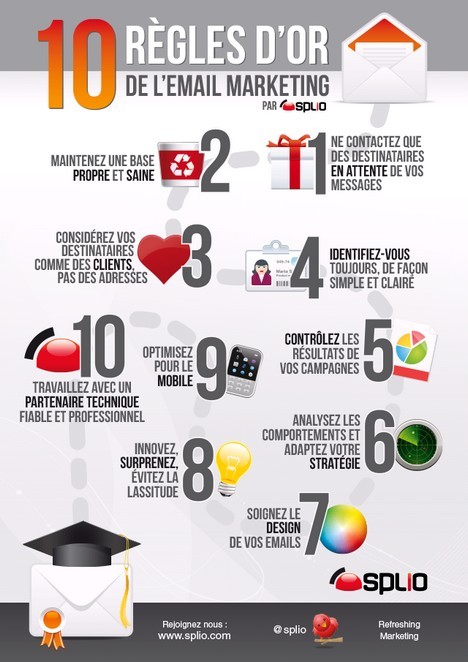 Focus on fit
Do you know the "push" and "pull" strategies in marketing? As its name suggests, the "push" strategy is a pressure strategy that consists of pushing the product towards the consumer while the "pull" strategy, on the contrary, aims to lure the customer towards the product. A whole game of seduction and communication that your emails should incorporate. Today, for an Internet user to be wary of the message you're sending them, your offer must be exciting enough to appeal to them as soon as they've read the email subject or you're taking advantage of "premium" content.
'Push' and 'Pull', do you follow? In the first case, you should bet on a careful division of your contacts and on improving a message that is increasingly targeted to consumer needs. You offer him an article that you know he will use. In the second case, you do not necessarily use a promotional tone. You invite your potential customer to visit your site to provide them with professional content and expertise. Traffic quality but not always for commercial purposes, since Internet users come, first of all on your site, to search for their interest in a topic. Then of course, they can also browse and discover your offers thanks to a career site. Your content is proof of your experience and knowledge. This can go through writing an e-book or white paper or publishing an infographic or comparison tables that will allow you to download them for free. By communicating in a different way with potential customers, they will not feel rushed from all sides to make the purchase. But it's strange that you give them new information and then boost your audience and conversation rate. take a look!