Do you send out marketing emails regularly and want to compare your results (and practices) with companies in the same industry? This study is for you: GetResponse, Mass Email Marketing, Smart Insights, and the Content Marketing Institute have published 124 benchmark pages on the topic.
Open rate and click-through rate
The study, conducted in 2017 among 2,510 email professionals, provides information on average open and click rates by sector of activity. The open rate fluctuates between 13 and 39%, while the click rate varies between 2.2 and 7.9% (not to be confused with CTOR, the click-to-open rate, which corresponds to the rate of clicks based on openings (KPI) often by email solutions).
Data by business sector
The report allows you to see the results obtained by brands according to their sector of activity. Tourism, high tech, retail, associations … For each, a dedicated page allows you to know: ROI from email, KPIs used to evaluate performance (number of subscribers, engagement, conversions …) and the evolution of each marketing channel's budgets ( Email, Search, Display, SEO, SEA, etc). Example of a financial sector: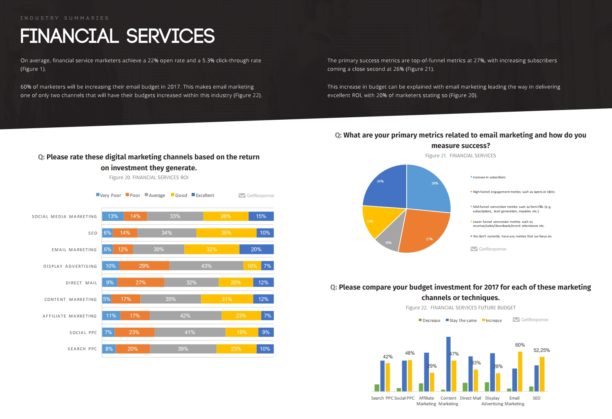 View the full report to view the data for your field.
How often emails are sent
On this topic, the brands were broken down: 15% call their bases once a month (light blue on the chart below), 33% between 2 and 3 times a month (orange), 19% between 4 and 6 times (gray) ) and 16% more than 6 times (yellow, dark blue: DK). There are significant differences between industries: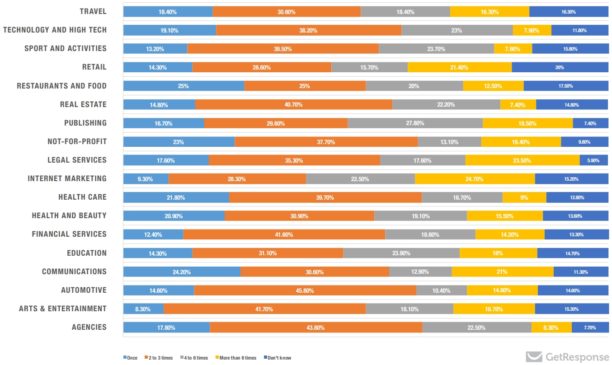 Segmentation of email databases
Not one of two marketers split their bases and send the same campaigns to all addresses. 29% use 2 to 5 criteria to target their emails: demographic criteria, B2C areas of interest, industry sector, profession in B2B… Some go even further, using automated rules to customize the content of emails sent.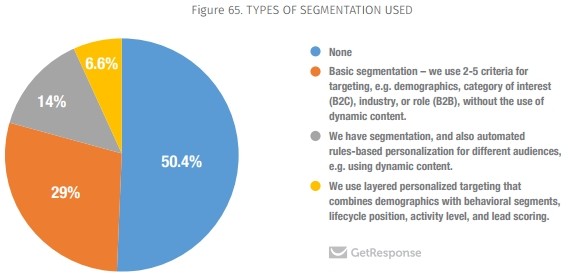 Types of emails that marketers send
58% of marketers send regular newsletters to their subscribers. 46% choose promotional emails whose primary goal is conversion. Note that 28% send welcome emails to new subscribers and 17% send out emails to support the purchase.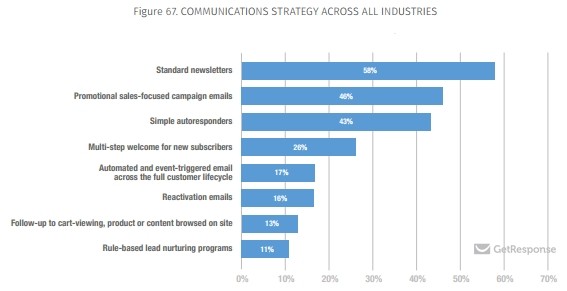 How many characters are in the email subject?
Most email providers truncate email subject lines after approximately 40 characters. Unsurprisingly, most email subject lines from marketers are between 20 and 60 characters. Rare are those who venture more than 100 characters or who try things very short, in less than 20 characters.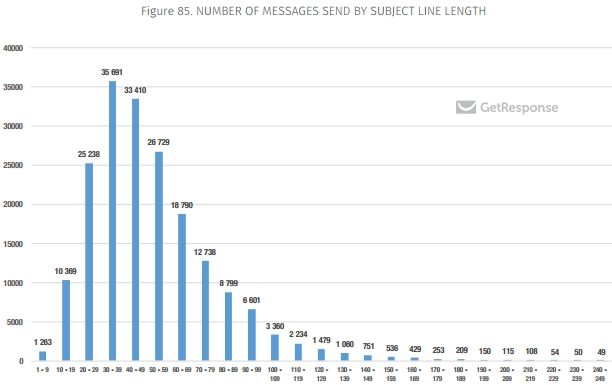 The study also includes a score criterion (opens, clicks) according to the number of characters in the subject of emails. The differences are small, but the best results are between 90 and 150 words – so don't be afraid to provide long addresses to your subscribers, even if the ending is truncated in messengers.
The importance of a pre-address in an email
87% of marketers add a functional initial header (Example: View this email in your browser) or marketing (Example: Fourth of July digital news). This message is useful to convince the user to open the received email, it is kind of a second subject. Significantly increases the opening rate.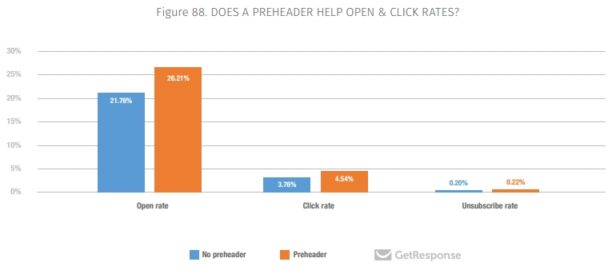 The study also indicates that emails whose subject matter is personalized (with a customer's name for example) are more open, as are those with an emoji subject and those with a video; But the differences are relatively small. To view the standard as a whole, you can download the PDF: Email Marketing and Beyond: Global Industry Benchmarks 2017.