Businesses of all sizes and in all sectors of activity must be innovative in order to adapt their digital strategy and meet the new expectations and prospects of their customers. They need talent to support them in the face of market developments and new technologies. " In the field of digital marketing and web design, skills and domains are rapidly developing: use of TikTok, use of video in social media and motion design, e-commerce augmented with virtual reality, emergence of communities in the metaverse, creation of podcasts or web TV, development of brand content, relationship with influencers … Analyzes Tamara Moznar, Director of Marketing and Communications at WebForce3 School. Great opportunities are offered to those who are planning to move or retrain in this booming and employment sector.
The importance of diversity to meet the challenges of business digitization
The web design and digital marketing manager job is a profile that is currently in great demand by VSE and SMEs, as it brings them many benefits, such as creativity, innovation and consistency with the roadmap. strategy. Demonstrates flexibility, can increase his skills to adapt to the evolution of digital technology and meet the new challenges of the company. " They need to refer to a collaborator to develop and perfect digital strategy and operations. The Responsible for web design and digital marketing, he plays the role of a true Swiss army knife in the service of companies with strong skills and a 360-degree view of different oceans. »
At the crossroads of many disciplines, such as design for brand identity design, branding (content, storytelling, social media), but also acquisition (advertising, analytics), this business is characterized by the interoperability of skills, technical, creative and organizational. " Disciplines intersect and enrich one another to contribute to a virtuous circle of digital strategy. Even if a company wants to invest in a field, talent must possess a base of multiple skills, in order to achieve its goals. »
This diversity in particular will allow him to be able to interchange with all professions, both internally and with external service providers, from web designer to developer to design and create website infographics, including search engine optimization (SEO, SEA), web editors or even community managers. He must also know how to measure and analyze the results of the actions carried out through his various projects.
Transverse skills for easier integration into the labor market
In the face of current changes in the sector with new consumption patterns as well as the growing needs for digitalisation, recruiters are looking for candidates who are versatile, but also creative, independent and with a very good general knowledge of the web. " If the question of digital interest is no longer open, companies must be challenged and advised on this perimeter. During the study and educational engineering phase, it turns out that companies need to turn to a collaborator to develop and perfect digital and operational strategy. Thanks to the skills gained during our training in digital marketing and web design, WebForce3 learners present themselves as the company's future strategic partners. »
Concretely, the web design and digital marketing manager must be able to prepare digital storytelling and branding for the brand, create online and video communication media, manage online communities, relationship with influencers, as well as advertising campaigns and ROI analysis. He is required to develop the natural reference for a website or blog, for front end development as well as graphics. These transversal skills will help them integrate more easily into the job market.
on the side of the soft skillsIts versatility and constant monitoring of digital news and its sector of activity will allow it to stay up-to-date with market trends, uses and tools to master. He must also know how to manage priorities and his pressure to meet the responsibilities placed upon him. " Professional development is fast and stimulating. Often times, these positions open up in changing and demanding environments. Learners have more facilities to make themselves attractive in the job market. It is also possible to specialize in a field and become a freelancer, in order to carry out specific tasks for certain divisions of start-up companies or large groups.
Professional training adapted to retraining in the digital field
The digital marketing and web design training taught by WebForce3 is designed by business and digital corporate experts and on-the-job coaches. It is complete and covers all areas, with the aim of acquiring the necessary skills to pursue a career as a web design and digital marketing officer. The school offers several courses to choose from: in a bootcamp from 1 to 3 months of courses depending on the chosen major, web design or digital marketing, or over a full 18-month work-study programme. Whichever format you choose, the course gives you quick access or return to work, depending on the preferred format, with TOSA, Opquast and state-recognised RNCP Level 6 (bac+3) certifications.
WebForce3 courses are open to everyone, without a prerequisite for a diploma or technical knowledge. They are well suited for retraining projects for those who want to advance their career. School Feature: Blended Pedagogy, which combines live coaching and learning via the WebForce.Life e-learning platform. Fictional and real exercises and projects, but also portfolio creation, are present in the program to enrich the practical application of knowledge.
" Training meets the expectations of companies and the reality of the required skills. There is a shortage of talent in these professions, look for it! Tamara Maznar adds. WebForce3 has 60% of learners find a job, 30% become independent or continue their studies.
Become a web design and digital marketing manager with WebForce3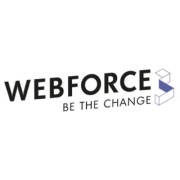 Introducing WebForce3
WebForce3 is a network of 50 schools training in digital professions under pressure, with branches all over France, but also in Belgium, Luxembourg and Morocco.
3 main streams are presented:
web development,
Cyber ​​security, systems and networks,
Digital Marketing and Web Design.
The courses are open to all (students, current staff, professionals in retraining, people with disabilities, etc.), and can be accessed without any age, diploma or technical knowledge requirements. WebForce3 pedagogy is based on live coaching delivered by business and learning experts via the WebForce.Life e-learning platform.