Today, your customers can check their emails anytime, anywhere and in any situation. To stand out from the tough competition in the inbox, your emails must present a personalized and relevant message, adapted to each context.
I support
45 years after its inception, email is still a tool widely used by consumers, 96% of the population checks their mailbox at least once a day, reveals SNCD in its latest study "SNCD – EMA BtoC – Email Marketing Attitude 2015".
But also by advertisers, email is the most profitable digital channel with ROI of $40 for $1 spent according to the Direct Marketing Association (DMA).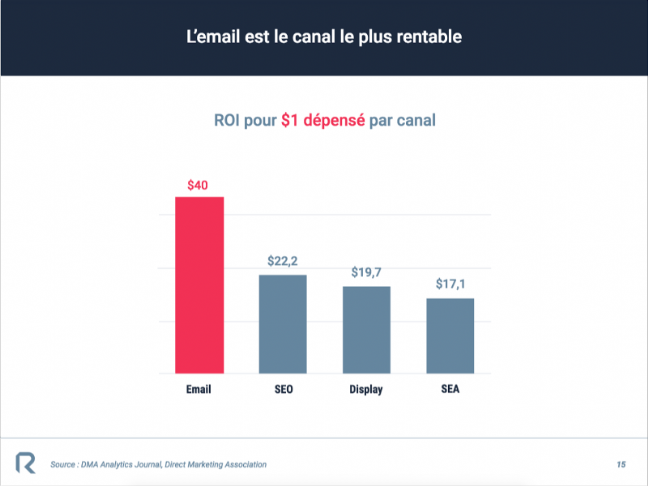 For more numbers on email (trends, uses, performance), follow this link
Despite its good shape, email needs to evolve to maintain its "leadership".
Marketers who have been using email for far too long have been using email as a group channel, and must now adopt a one-to-one approach, putting personalization at the heart of their strategy.
In fact, more than 1 in 2 consumers believe that 70% of emails received are irrelevant (SmartInsight study), which is paradoxical given the increasing many personal interactions on different channels.
The first issue is real time, meaning the interaction of the content when reading the email. Since the message is sent at a specific time (computed or random), marketers have no way of knowing when the email will actually be shown and therefore act accordingly.
The second is that consumers can check their emails anytime, anywhere and in any situation. To stand out from the fierce competition in the inbox, emails must deliver a personalized and relevant message.
In general, the way brands communicate on the email channel must evolve, but above all revolutionize, by adapting an individual approach and not by campaigning. To put an end to sending mass emails.
In 2017, 89% of marketing managers will make customer experience their main key to competitive differentiation.
Source: Gartner
Revolution name, email intelligence
Email Intelligence aims to change the way we think about email marketing today.
This new era of email should allow its content to be adapted, customized and improved in real time at the time of opening, according to each individual, to get a relevant message in all situations.
That's what Reelevant, the real-time email intelligence technology launched earlier this year, is trying to do by building on scenarios using real-time data at the time an email is read.
– Context: location, weather, device, time of day
– Customization: behavior, navigation, preferences, arrows, etc.
– Optimization: real-time testing, contextual profiling, etc.
Reelevant multiplies clicks x3/4 on average, but unlike numbers, it provides better relevance in communicating with customers who have a more positive brand view.
Reelevant serves three purposes:
1/ Increased turnover
Increase your conversion rate/ROI per email
"Dedicated emails have 6 times higher conversion rate"
Source: Experian
2/ Build loyalty
Enable interaction with relevant content
"A personalized email generates 4 times more clicks"
Source: Criteo, 1H 2015 and Marin Global Digital Advertising Index
3/ Improve the customer experience
Create a unique customer experience to stand out from other incoming emails
"Only 8% of consumers believe they received special offers after their data was shared"
Source: AIMIA, Global Loyalty Lens Report
Email intelligence is here… and it's finally revolutionizing the email channel.
Discover the Reelevant white paper "Real-time e-mail: 8 use cases of e-mail whose content adapts at the time of opening": http://www.reelevant.com/fr/ebook-ecommerce.html
I support