They both lived in Bordeaux. Julian has worked in river tourism and Bénédicte in digital marketing. At the time, they didn't know each other, but they shared the hope of reinventing their lives. " When my third child was born, I wanted something else Passionate about sustainable, committed food, says Bénédicte. In 2018, they met through friends, and began to think and build their cause: " Julien explains that there are no smoking rooms near Bordeaux. We pursued professional training in food hygiene and were trained by Groix smokers, then trained to work with fishmongers. The two partners decided to settle in Cap Ferret with their feet in the water. Proximity that goes with Desire to enhance the fruits of local hunting by adopting the ancestral traditions of salting and smoking ".
Passive or selective hunting
Two years later, in the midst of a pandemic, they began production. " Julian explains that we work at a fishing pace. Although there are no official specifications, we are committed to a 100% sustainable model with small boats less than 12m in length, day trips and selective fishing methods, targeting a variety of precision, whether fishing with a straight (flat) net or with a line. This is where he plays Jean, one of the fishermen Julian works with. Like a marine fisherman, he knows where to find each species. Once the fish are landed, Julian immediately negotiates the price of the day's catch.
salt instead of water
The day's catch is stored in a refrigerated truck bound for the lab. " The fish should be left alone for a day or two so that the meat softens and is easier to handle. Bénédicte, Julien and Louise dress appropriately, company employees catch the fish, lift the fillets and then salt them according to their weight with salt from Les Sauniers de l'Ile de Ré, which will replace the water in the cells of the fish, allowing it to be stored for longer The slices spend between 24 and 48 hours in cold storage. Then comes the cold smoking stage (24-25°C max) with beech sawdust." It is the most neutral substance. Our goal is to preserve the original taste and freshness of the fish, not the smell of wood. Julian explains.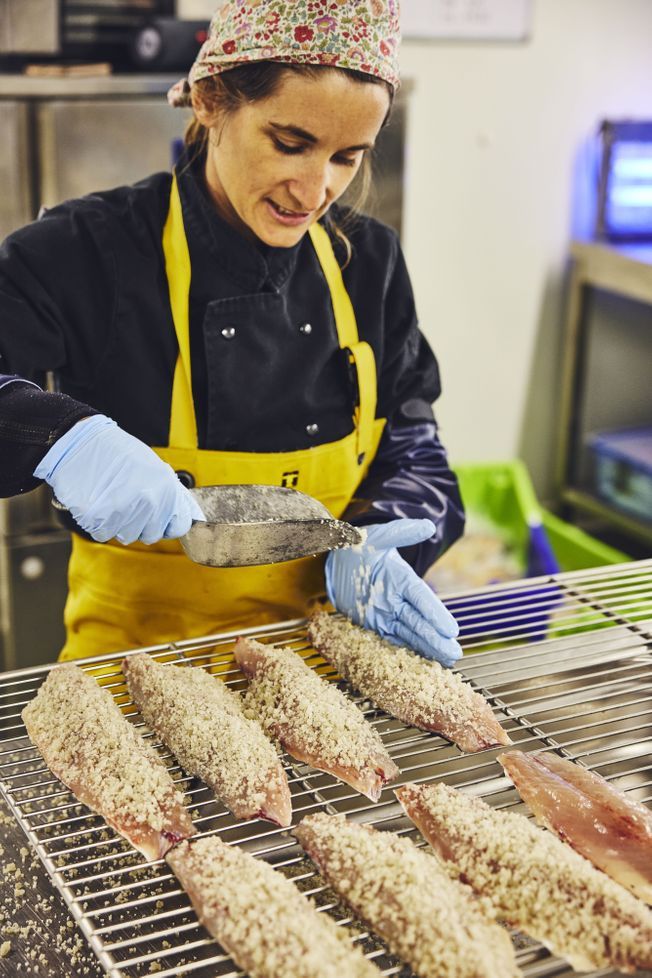 Also to discover:Our smoked fish recipes
The fish returns to the cold room before the final step, where the bone is deboned with tongs and finally placed in the vacuum. It is forced frozen because it has not been cooked before. A week later, the merchandise will be offered for sale in the store and local markets and delivered to local grocery stores. " Fish is often intimidating in the kitchen because cooking is delicate. Our production has many advantages: The fish is ready-to-eat, boneless. Expiry date 21 days, compared to 48 hours for fresh fish Next goal for the two partners: "says Bénédicte. Octopus and oysters! There is a lot in the area. »
To continue, then…
Salting and smoking: what's the difference?
salting: Fish fillets are salted with coarse salt (photo) for a couple of hours, rinsed with water and kept in a cool room overnight to ripen.
cold smoking: Slides are placed in a smoker and exposed to cold smoke (no more than 24-25 ° C) for a few hours. Then they are kept in a cool room and matured by smoking for at least 24 hours.
hot smoking: The temperature oscillates between 40 and 120 degrees Celsius according to the same principle as wood combustion.