From RetailTech, through ArtTech, FinTech, FoodTech, AgriTech or even BigData, Tunisia over the past decade has seen the emergence of a new generation of entrepreneurs and start-ups, all areas of sectors combined who are well suited to digital technologies. Little by little an entire ecosystem is being built in order to incubate, promote and fund these initiatives.
Among these players, the Mashrou3i project has supported start-up entrepreneurs in the interior of the country since 2013 until today with HP LIFE e-learning training for students and aspiring young entrepreneurs.
He also provided in-depth and personal support in business coaching, training and specialized technical assistance, with the aim of successfully launching and developing their activities for the project beneficiaries.
By 2025, Tunisia has set itself a goal in its strategy to facilitate the launch and development of 1,000 ranked startups and 10,000 job opportunities. The United Nations Industrial Development Organization (UNIDO) is contributing to this goal through the implementation of Mashrou3i ("My Project" in Arabic), a public-private partnership supported by the Tunisian government, and funded by USAID. for International Development (USAID), Italian Cooperation (AICS) and the HP Foundation.
The project, which entered its second phase in October 2016, has increased its capabilities and assistance efforts to continue, until its closure in September 2022, its mission of facilitating job creation through entrepreneurship. To this end, the project is constantly intervening in 14 priority Tunisian provinces: Beja, Gafsa, Gabes, Jendouba, Kairouan, Kasserine, Kef, Kebili, Medenine, Sidi Bouzid, Siliana, Tataouine, Tozeur and Zaghouan. More than 31,600 young men and women have benefited from HP LIFE courses.
Also, through its other support in business coaching, training and technical assistance, the project encouraged the launch of nearly 750 startups, 45% of which are run by women, and supported projects to expand 125 existing companies, allowing for more than 5,500 jobs to be created.
Entrepreneurship 2.0
While the main objective of the Mashrou3i project, which is specialist in its approach, was not specifically centered on digitization, it must be recognized that digitization and the use of digital technologies were omnipresent in the activities of the beneficiaries and in the implementation of project implementation. . In a recent UNIDO report entitled "Digitization as a Tool for Enhancing Entrepreneurship and Business Development in Tunisia", the study conducted among the beneficiaries clearly shows that innovative practices and transformations in terms of digitization have been progressively applied under the Mashrou3i project. This in particular has made it possible to help beneficiaries take advantage of the digital dividend and accelerate the development of their business.
This report highlights the acceleration of digitization during the COVID-19 period felt by project beneficiaries. For many of them, this period was associated with the discovery and practice of new digital tools and, for example, the possibilities of expanding markets and selling outside their home regions. Digital transformation has also proven to be a powerful tool for spreading an entrepreneurial culture as well as a great accelerator for learning about entrepreneurship.
In addition to being a new source of inspiration and innovation for most entrepreneurs, access to digital tools has proven to be above all a means of expanding the market and transforming business models. The development of digital platforms as well as social networking practices have contributed greatly to this.
The access of Mashrou3i beneficiaries to, among other things, the HP LIFE (HP Learning Initiative for Entrepreneurs) platform opened their curiosity and interest in e-learning for other platforms as well as enhancing their digital skills. . Mashrou3i's project experience has also proven that one-to-one online training is possible and is increasingly accepted and demanded.
For a more favorable digital environment for entrepreneurs:
However, this report highlights a number of challenges that entrepreneurs still face in uneven fixed internet coverage by region; Decreased digitization in public administrations; The lack of an efficient payment system and distrust of digital technology pose structural problems for startups. This often leads to delays and frustration, or for some who have the opportunity, it encourages them to work or work abroad, limiting the number of skills available in the market.
In this sense, the report recommends the need to improve the digital infrastructure in order to allow the development of digitization as a driver for the development of companies and start-ups in the interior regions; To accelerate the overall digitization of public administration in order to provide flexibility and save time and resources for businesses; To further advance the digital skills of entrepreneurship; To promote new forms of blended assistance and entrepreneurship teaching (face-to-face online courses); To continue to benefit from and share the success stories of entrepreneurs to promote the dissemination of the culture of entrepreneurship, particularly through social networks; To popularize electronic payment and mobile payment systems in order to facilitate the payment process for entrepreneurs and start-ups; Finally, promoting digital trust and disseminating a culture of cybersecurity and intellectual property rights for entrepreneurs in Tunisia.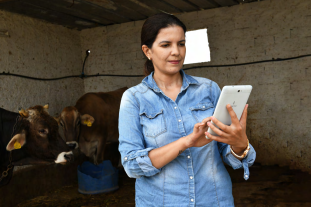 Haifa Khalfaoui, the success of a young farmer from Jendouba
A young 28-year-old computer engineer and in tune with the times, nothing destined for Haifa Khalfawi to become a farmer. However, after obtaining her degree, she joined a dairy company in Jendouba in 2016, as a developer and then IT director, and quickly discovered a passion for the agricultural sector and especially livestock farming. The seed of entrepreneurship was sown, and Haifa decided to launch her own business in 2017, a smart dairy farm.
"I told myself 'why not.' With my computer skills, I can also bring a dose of innovation to the sector. My project idea started from there."
Haifa received support from the beginning from her parents who offered her the family property to set up her farm there.
"Based on the simple observation that livestock farming in Tunisia is a business that struggles to be sustainable and thriving. So I leveraged my computer engineering skills to develop an app that monitors livestock on time. Through this app, I can from home assess the nutritional or health needs of livestock , setting heat periods for cows, and validating them with just a few clicks. »
Haifa first completed her livestock training at the 4C center in Tibar, in 2018. Combining theory and practice, she gradually learned the techniques of the trade. In April 2018, she had the opportunity to participate in a competition for young entrepreneurs organized by the non-profit organization enpact, GIZ and in partnership with the Mashrou3i project.
"To my surprise, I qualified for the final that was held in Bizerte, and was selected among the winners of the mentorship program. Also through this competition I got in touch with the experts of Mashrou3i."
Haifa joined the program at the end of 2018 to benefit from a year of support and technical assistance in setting up her business.
"Between 2016 and today, my project idea has evolved a lot. Thanks to programs like Mashroo3i, I was able to develop and improve it to make my project today a thriving business."
Mashrou3i helps him design his charter charter, helps him with marketing and sales, and also accompanies him with in-depth business training that allows him to re-evaluate his financing scheme.
"I was stuck for a year because I was waiting to receive some grants. Nothing was clear, and access to information is very low in our area. The finance expert while training with Mashrou3i helped me better understand the current state of the grants offered to me and guided me in order to free my situation."
Today, with her dairy farm Lait Espoir, Haifa heads 8 calves that she received for an investment of 110 thousand dinars, of which 80 thousand are for wheels only. With the unconditional support of her parents, she is currently preparing an expansion of her farm which will include the acquisition of 10 new calves, and the operation of the grazing field with the addition of covered and insulated booths for the welfare of the cows. In the long term, I aim to manage a livestock of 30 cows. »
Haifa was recently invited to participate in the Leaders Summit organized by the United Nations, to talk about the challenges Tunisian entrepreneurs have faced during the COVID-19 crisis, and how she anticipates, thanks to digital transformation, a better future for the ecosystem.
"The COVID-19 crisis has accelerated digital transformation and demonstrated the need for new digital solutions. My advice to young people is to follow their passion, take advantage of these digital opportunities, rely on projects like mine to develop their skills, and always learn."
So far, 50 dairy farms have adopted its mobile application to monitor the welfare of their animals. This increases profits and eases the workload of farmers. The second app allows cream mills and dairies to keep track of their products.
Haifa is preparing to grow, in early 2022, from 7 to 11 employees, including 5 women. 11 employees, including 5 women. It wants to market its applications elsewhere in Africa.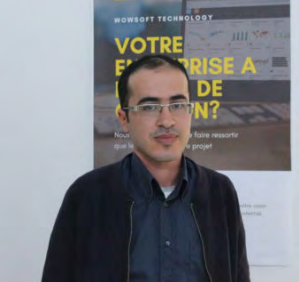 Ali Boukhachem, founder of the digital development agency "Wowsoft" in Tataouine
"After officially launching my company in September 2020, I had the pleasure of being selected among the winners of the most innovative startups in the country. Apart from the broader vision that also enabled me to get contracts from public institutions, the ranked startups also receive a grant for a period of time. One year in the amount of 1,000 dinars per month in order to ensure the correct start of activities, as well as benefits in terms of social security. »
Thus Tunisia intends to facilitate the launch and development of 1,000 addressable startups by 2024, 10,000 jobs and the creation of a unicorn (a startup with a billion sales). This device integrates 20 motivational actions structured around the merit sticker and the many benefits for startups as well as for their founders and investors. Steady in its momentum, the program that started in April 2019 registers every month around twenty pre-sorted and/or pre-sorted startups out of around fifty applications.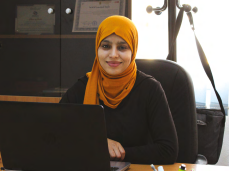 Hajar Al-Hadi, Founder of Examido Education Platform
Mashrou3i supports start-up entrepreneurs with HP LIFE training, in-depth business training, and technical assistance. This month, we're taking a closer look at some of the project-backed entrepreneurs who are proving that a ranked startup is an important lever for wealth creation and job development in underserved regions.