A tool for sending emails via his Facebook page
A Facebook spokesperson confirmed to Adweek that the social network is testing new features to allow small and medium-sized businesses to send email messages through their business page.
"We are testing new email marketing tools with a small number of businesses to help them more effectively notify their customers of changes to their services and processes. We are evaluating whether these tools are useful to individuals and businesses before we decide to develop them further."
How it works ?
Page owners who are part of the test suite launched by Facebook can find a tab Email Marketing in their page inbox. according to Meg Coffee TestOnce users click on this tab, a page appears asking them to confirm their email address.
After validating their email address, Page admins have the option to add contacts manually or upload a preset list of contacts.
Note: The tool does not send emails to everyone who likes a Page. Page owners upload their own mailing list and then need to confirm that they have permission from all of their contacts to send them marketing emails.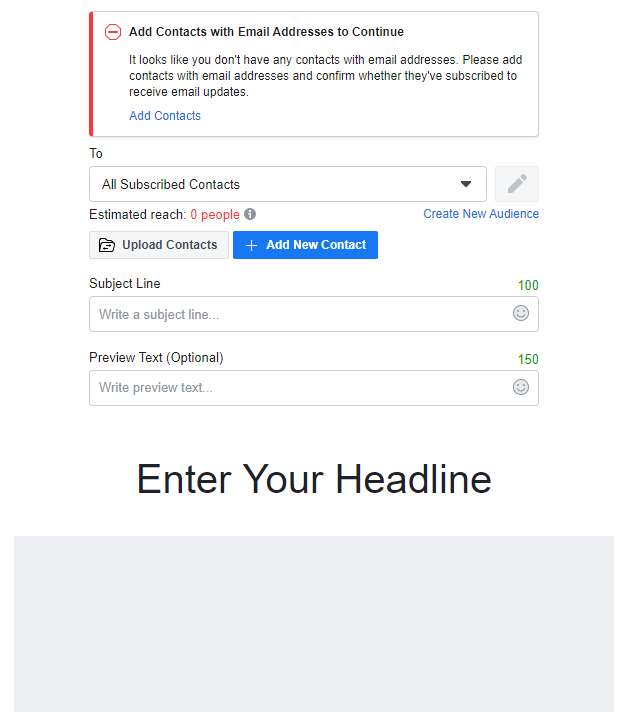 Jobs Related to Small Business
This new functionality is likely to be more useful for small businesses that do not always have the resources to use specialized email solutions, unlike larger accounts.
By integrating this new email tool into its platform, Facebook wants to allow new marketing businesses the ability to easily and quickly send promotional emails to all of their subscribers.
If the tests launched by the social network prove successful, the email tool will soon be accessible to all professional page managers. Facebook has not released a statement regarding the official rollout at this time.
Source: Adweek