ACSEL, the main multisectoral and comprehensive digital association in France, publishes its sixth edition of the Growth and Digital Barometer. Ipsos conducted the survey on a sample of 700 companies in the commerce sector in France, from March 14 to April 8, 2022.
More and more merchants are seeing benefits to their business from integrating digital and physical channels. It is clear that their desire today is to increase their skills in these subjects and to surround themselves well, both internally and externally, to respond to the new practices implied by this, in order to make it a real lever for growth, stated Laurent Nazri, President of ACSEL. .
Digital continues to contribute to business growth
In France, merchants are continuing their digital transformation because more than half of them now consider digital to contribute to the development of their business. In this sixth edition, all numbers are in green:
51% of French merchants stated that digitization contributes to their sales volume (+9 points vs. 2021),
57% consider digital contributes to local trade (+5 points vs. 2021),
51% aim to develop a comprehensive channel strategy (+16 points vs. 2021).
Social Networking And Web, Marketing Vision Vector
French companies are increasingly present on social platforms: 72% of surveyed companies have a page on social networks (+5 points vs. 2021). The figure rises to 92% in the sample of companies with more than 20 employees. Other information to highlight: The majority of companies have created a display site (73%).
Beyond simple vision, the digital number is a marketing vector. 60% of respondents use one or more digital channels to market their products or services:
Social networks (Facebook and Instagram): 45% (+ 4 points vs. 2021),
E-commerce websites: 37%,
Local markets or local platforms: 11%,
Major Markets (Amazon, FNAC, Rakuten, etc.): 10% (+2 points vs. 2021).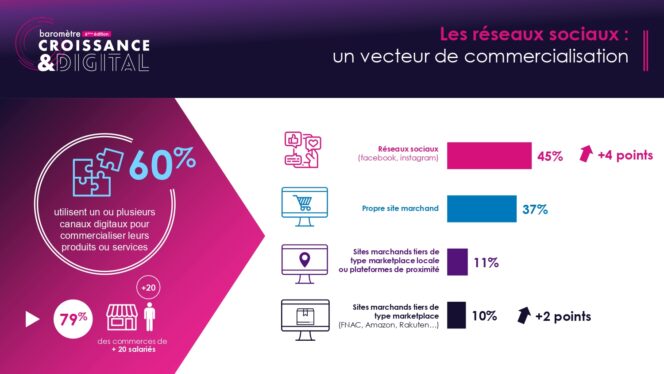 Increased use of customer analytics tools
A barometer reveals a greater interest in knowing customers. Thus, 40% of respondents use customer analysis tools (+12 points vs 2021). Nearly half (46%) of companies see developing a customer knowledge strategy as essential.
Discover the best digital marketing tools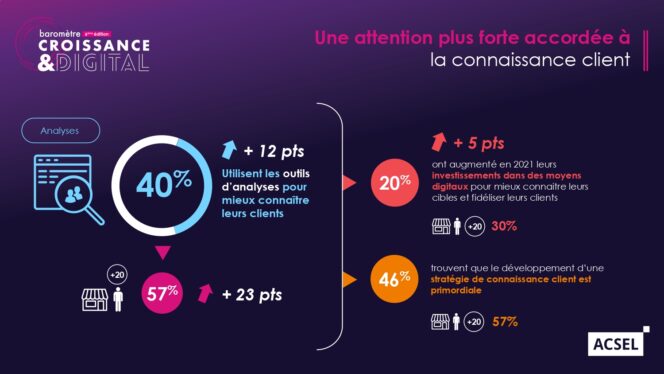 Urgent need for support to build experience
French companies are now looking to increase their expertise. The barometer makes it possible to determine the priority axes according to the company profile:
Companies with less than 20 employees: 84% want to better master digital tools and 80% simply want to know where to start.
Companies with more than 20 employees: 85% need to facilitate the customization of digital tools by employees and 81% want to facilitate changes in internal organization and working methods.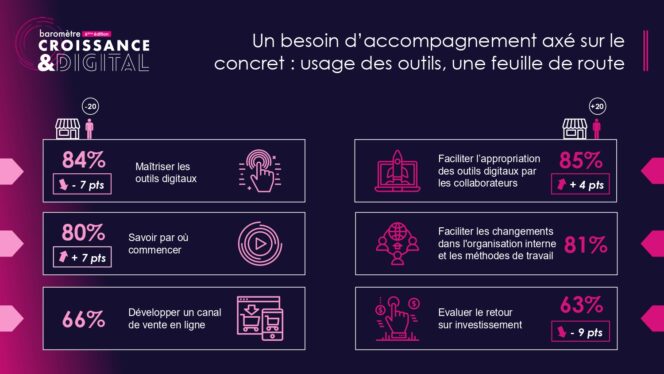 Companies recognize the need for training
Merchants are taking digital transformation into their own hands. In this
In the region, they place special emphasis on training their employees (36%, i.e. +5 points versus June 2021).
Digital courses most requested by surveyed companies:
Marketing/Communication: 55%
IT/Office: 50%
Selling Techniques: 40%
IT: 38%
Looking for training in the digital field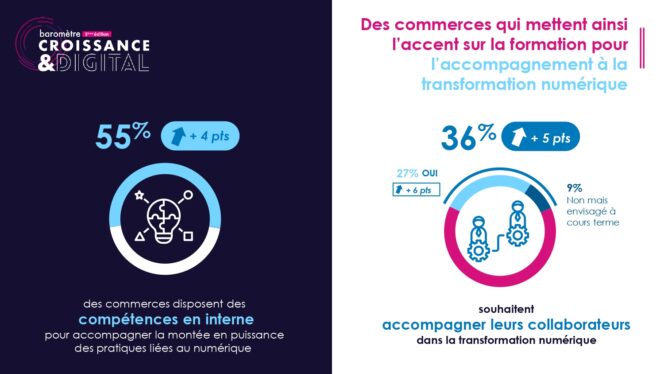 Generation-Z, a major asset for the digitization of French merchants
Almost half of the merchants (49%) recruited the preferred youth (apprentices, apprentices in work and study and young graduates). The main reasons why companies recruit young people:
Proficient in digital tools (64%),
Well trained in the digital field (56%),
It is a valuable aid in digital transformation (54%).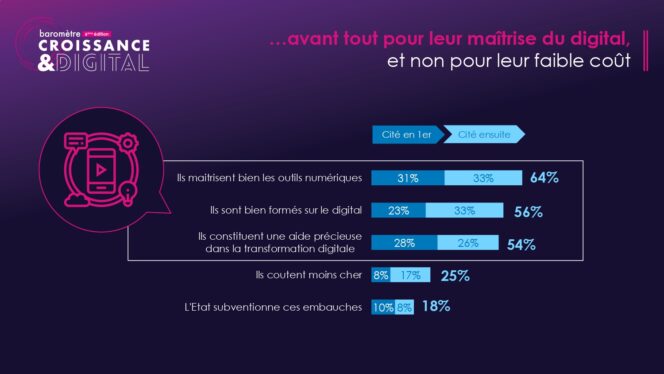 CSR commitment is still shy
Only 1 out of 4 companies have implemented a CSR policy within their company (24%) but 49% are offering an environmentally friendly offer or intend to do so soon.
Key consumer expectations identified by companies:
Customers want to give meaning to their consumption: 75%,
Customers expect higher environmentally friendly products: 70%,
Customers are increasingly demanding information on how products are manufactured and the raw materials used: 67%.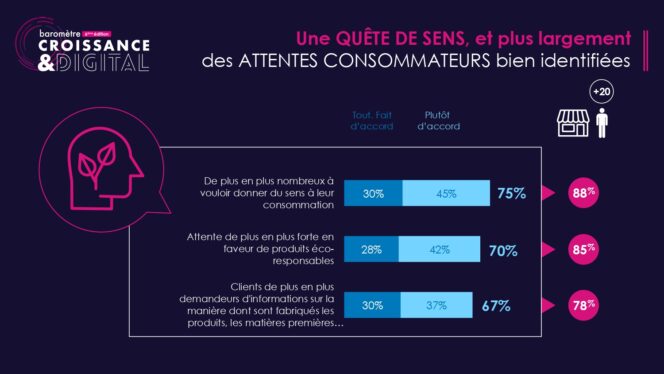 All major numbers presented in graphic form by Accel: