Conakry – The Salon of Entrepreneurs of Guinea (SADEN) launched on Monday 13 June the first edition of the activity called "Digital Tools for Innovation" in cooperation with the US Embassy in Guinea and Google.
These training workshops are aimed at Guinean entrepreneurs, followed by a competition to provide 25 Guinean companies with digital tools in order to increase their impact and develop their activities sustainably. A scholarship and other benefits will also be provided to the winner of the competition. This competition aims to provide Guinean entrepreneurs with digital tools but also to support them in defining a strategy to expand their influence and develop their businesses in a sustainable way.
For a period of three (3) days, pre-selected candidates will participate in training courses that will be led by representatives of the American company Google. These sessions will focus on digital marketing, the use of digital tools, and social media. Speed ​​dating with mentors who will allow them to work on their presentation prior to the final presentation of their project to the judging panel.
In her opening remarks, Salemato Sacco, Vice President of SADEN, explained the objectives of this course.
"SADEN wants to be a practical tool and also a tool that fits into the Guinean entrepreneurial ecosystem, that exists and does things, but it A communication platform to inform, think and support entrepreneurs. So we were given this opportunity by the US Embassy, ​​Google is through them so we can contribute to what is already being done well, but the goal is to really equip the entrepreneurs with digital tools. Digital Covid-19, the Covid crisis made clear to us, digital has imposed itself on us. As the name of the competition says, they are digital tools for innovation. So the idea is to continue to equip companies so they can continue to make a real impact. Starting a business is one thing, but it has to last, it has to be able to grow, it has to be a successful business. So this event is not just an event, but really a tool that will allow companies to move forward. So we really thank the US Embassy and the Google team that made this trip." She said.
Initially, 150 companies applied, about 40 companies attended the training, after which 25 companies will be selected for the final competition. Of these 25 companies, one will be selected by the jury.
Troy Vitrell, the US ambassador to Guinea, explained the motivation behind US support for this project. "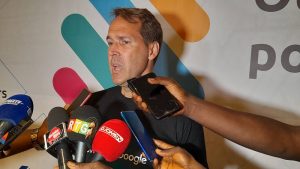 Motivation is the future of Guinea. We have in this room young entrepreneurs from Guinea. They are very creative and very ambitious and we have the opportunity to have this training going forward in the future. Google has arrived in Guinea and I am very happy that they are companies with great digital tools for all purposes in the world. And having Google as a partner is a great opportunity." behold.
"It really is a real desire for our company to invest in the continent. We have announced an investment of $1 billion over the next five years, to develop ecosystems, to boost internet adoption through physical infrastructure, to invest in human capital, to create platforms that facilitate technological innovation and to work with owners Interest to obtain regulatory frameworks to facilitate ecosystem innovation so that young entrepreneurs do not face any barriers to entry and take on innovation" Adama Diallo, responsible for strategic partnerships for Google for Africa, confirmed.
Aboubacar Keita, Director of Guinea 360⁰, a platform that creates virtual images of the tourist sites and cultural heritage of the Republic of Guinea, is one of the participants. He praised Saden's initiative which will also enable him to expand his contacts.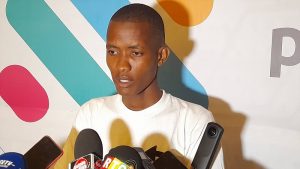 "We considered it necessary to take pictures of all our locations and make them virtual so that those in Conakry or abroad in turn could visit Guinea without actually having to travel thanks to these dynamic and transferable images. We applied for this training not only for Having entrepreneurial skills, although we have been in entrepreneurship for some time, we are not regulators, we are not regulators Many young people today need to organize and thanks to this SADEN activity we can not only recognize other companies that are developing in the same field as we are Young entrepreneurs, but at the same time we can learn about new tools from Google, since we are already working with Google to promote Guinea culturally and tourism.At the end of these training sessions, we can make sure that our company is better known both nationally and internationally because the training focuses on the use of The digital tool to promote your businessAnd the rejoice.
According to the organizers, at the end of the competition, the winner will be awarded a $3,000 grant, and five companies will also benefit from a year of mentorship and a subscription to a platform that gives them better access to the local area. Market.
Diop Ramatolay
666751610