NotIt's 2022 and the world is slowly returning to a sense of normalcy. Among the companies hardest hit by the pandemic are small and medium-sized businesses, whose marketing budgets have been hit hard by the effects of the Covid-19 virus and hampered their digital acceleration. What about today ? Belgium appears to be lagging far behind its European neighbors in terms of digitization.
Before the onset of the pandemic, we analyzed the state of digital acceleration for SMEs. Now that the business is back to its normal operations, we take a look at how things have evolved since then.
This is what we found in our 2022 study:
20% of Belgian companies do not have a website, in 2020, 42% said they do not have a website.
33.8% of companies plan to develop an app, but only 12% use it instead of a website. Belgium has the highest percentage of companies that already have applications (19%) compared to the other countries in our study.
Lack of budget is no longer one of the top three reasons why SMBs don't have a website. For Belgium, lack of technical knowledge is the main reason for not developing a website (30%).
Almost half of the companies surveyed (47%) stated that their websites are mobile-friendly.
Global events such as the pandemic and the Russian-Ukrainian conflict did not affect marketing budgets, with the exception of Spain.
Website development budget ranges from 1000€ to 5000€ in all markets. Whereas in Belgium, the majority answered the investment between 5,000 and 10,000 euros.
Nearly 40% of companies that have invested in a website after the pandemic say it has been less costly than expected.
Developing a website unlocks other investments in digital marketing and acceleration. With the exception of Belgium where more than 60% of companies believe that creating a website has not led to increased marketing investments.
Quality content remains the number 1 priority for businesses for their websites. For Belgian companies, the priority remains to make websites more mobile-friendly (41%).
Internal employees appear as the most used source (29.02%) for website design by small businesses, closely followed by specialized agencies.
Are there European companies without a website in 2022?
The European outlook remains optimistic regarding website development, with nearly half of the companies surveyed (44%) saying they have a website.
Belgium is the country with the highest percentage of companies that do not have a website and do not consider it a priority (20%).
In our 2020 study, 42% of Belgian SMEs did not have a website. So our 2022 study highlights an improvement in digital acceleration in this country.
Belgium is the country with the highest number of SMEs that responded that they want to launch a website in 2023 (23% compared to 10.8% overall) followed by the Netherlands with 11%. France and Spain are the two main countries in Europe in terms of small and medium businesses having a website. This contrasts sharply with the 2020 poll, in which the Netherlands and Germany were at the top of the podium.
Belgian SMEs are hampered by the cost of setting up a website
Although budgets are no longer the main concern of European SMEs when it comes to creating websites, most of the companies surveyed remain cautious about their expenditures in 2022.
The budget for website development is mostly between 1,000 and 5,000 euros in all markets. This budget is the same in 2020.
The budget is the second reason why SMEs do not invest in Belgium. Not surprising, given that invested budgets are higher than in Europe. It is the only country questioned that answered investing or planning to invest between 5,000 and 10,000 euros to build their website!
However, in Europe, nearly 40% of companies that invested in creating websites after the pandemic said it was less expensive than expected.
Should Belgian companies be better aware of the true price of a website?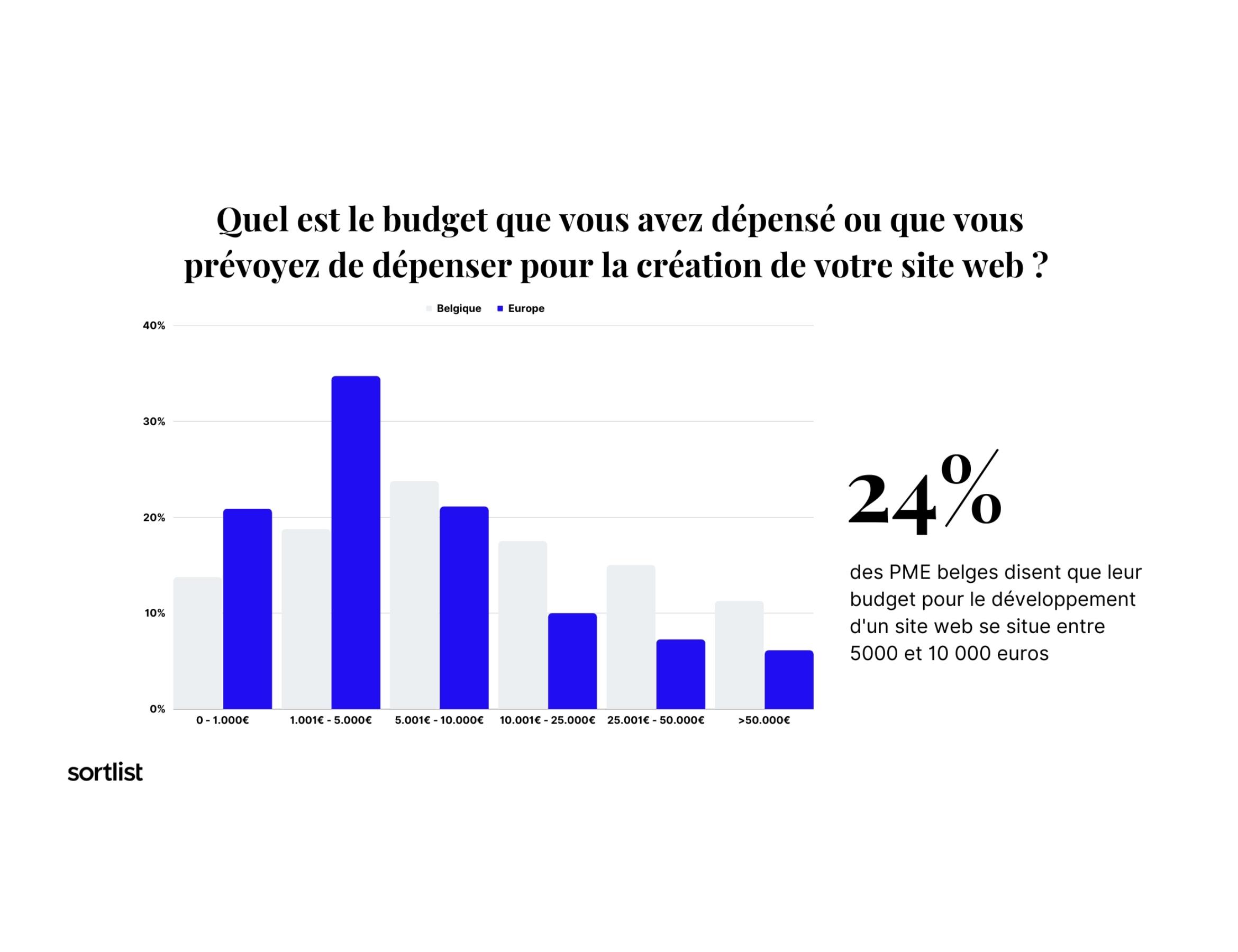 In terms of overall marketing budgets, the crises seem to have no impact on digital acceleration, except perhaps for Spanish companies, who have said the pandemic has cut their budgets. In Belgium, the answers are split between 'no' and 'yes, both events have cut our budget'.
Digitization: Better late than never
The pandemic has opened the eyes of many companies to the importance of investing in their digitization. Most SMEs now have a website and are ready to invest more in digitizing it as they see the positive impact on their sales and brand image. In Belgium, this path appears to be taking place a little slower than in its European neighbours. Although Belgium is an important hub for digital startups, they must push their digitalization if they do not want to miss the opportunity.
methodology
The study was conducted from 4 to 8 April 2022 among 1,000 companies in Belgium, Germany, Spain, France and the Netherlands. In this study, we asked CEOs of small and medium businesses about the current state of their websites as well as their plans to build websites. The responses are anonymous.
Find the full article in Sortlist (Source: https://www.sortlist.be/fr/blog/digitalisation-belgique/)