The Moto G62 5G smartphone has been in the news for over a month now and we've spotted the device on several certification websites. The phone was first spotted by Wi-Fi Alliance revealing dual-band Wi-Fi support and an operating system version for the device soon, and later the device was also seen on the FCC database, which also revealed the battery capacity and charging speed of the device. Recently, the phone underwent NBTC certification which confirmed the phone's moniker.
Now, Motorola's next smartphone has been spotted on TDRA (Telecom and Digital Government, UAE) and with this listing, the phone is now closer to launch. Let's take a look at the phone in detail.
Moto G62 5G is listed on TDRA
The Moto G62 5G smartphone has been spotted on the TDRA certification website, a digital telecom website owned by the UAE government. On the website, the device is listed with model number XT2223-1 with Lenovo as the name of the organization, which is the parent company of Motorola. The phone will be marketed as the Moto G62 5G. Other than the model number and nickname of the phone, the website does not reveal much information about the device.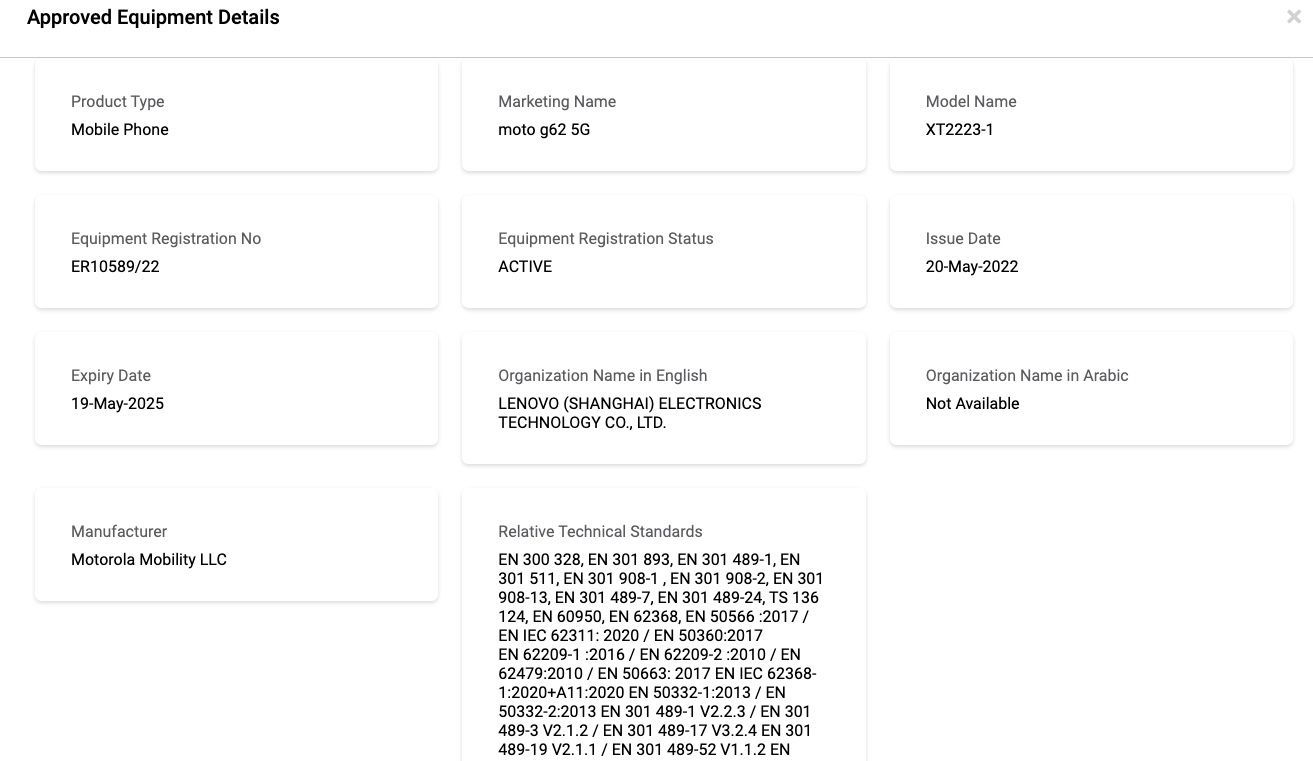 Moto G62 5G Specifications (Expected)
Based on previous reports and leaks, the device is expected to feature a Full HD+ display and a high refresh rate (90Hz or 120Hz). The device is likely to come with up to 8GB of RAM and 128GB of internal storage. The phone will support dual-band Wi-Fi and will run on Android 12 out of the box. Additionally, the phone could come with a 4,700mAh battery and support 20W fast charging. The phone is said to have a triple camera setup with a 50MP primary camera.
Thanks for reading to the end of this article. For more exclusive technical and informational content, like our Facebook page
js = d.createElement(elements); js.id = id;
js.src = "https://connect.facebook.net/en_US/sdk.js";
fjs.parentNode.insertBefore(js, fjs),
} (document, 'script', 'facebook-jssdk'));
jQuery(document).ready(function($){/* $_topBtn = '
'; * // $_topBtn = '
";
//$(".inner-header").append($_topBtn);
$_bottomBtn = '
";
$(".clear-footer"). before ($_bottomBtn); (function priceTableCollapse() {var numRows = $(".prc-tbl"). find (".prc-tbl__row"). length;
if (numRows > 4) { $(".prc-tbl"). find (".prc-tbl__row"). slice(4) .slideUp(); $(".prc-tbl"). append ("
Show more
"); $ (document). -tbl "). find (".prc-tbl__row "). slideDown();});}} (); /* (function AuthBoxClipping() { $authBox = $(".td-author-description p" );
if ($authBox.length) { if ($authBox.outerHeight() > 65) { $authBox.addClass("clipped-desc");
$authBox.after ($moreButton);
$(document) .on("click", ".js-auth-read-more", function() { $authBox.removeClass("clipped-desc"); $(this).remove();}); }}}) (); */
});
/ * The new GA event GTS Clicks * / $ ('. ga_event_cls'). on ('click', function (e) {var ga_category = $(this).attr('data-category'); logGTSEvent (($() this) .attr('data-label'))), (ga_category) , ($(this).attr('data-action')));});
/ * GA events for GTS Clicks * / function logGTSEvent(label, category, action) { console.log(category, action, label);
gtag('event', action, {'event_category': category, 'event_label': label, 'value': "}); }