On May 4, the site of the former Russell spinning mill was in turmoil. Four industrial textile machines weighing several tons (digital cutting, digital printing, post-processing), were received for production launch, starting in the summer of 2022, at the request of Atelier Agile. Stunning installation given the size of the machines but with great supervision by the General Manager, an engineer by training.
Triple win
SSE (Social and Solidarity Economy) was created in the summer of 2021 with its own design office, its own clothing workshop, a picking service (order preparation, quality control, etc.) and its own training center. The site has already been operating since January 2022 in a traditional way, responding to classic requests for textile production or recycling (turning unsold items – tablecloths, bath linens, armchair covers, etc. – into new products such as bibs, toiletries, make-up remover gloves, etc). Tomorrow, it will be a matter of specialization in production on demand, on the basis of a trilogy."Digital, Environmental Design and Local Employment".
just-in-time system
"To order 1,000 dresses, instead of producing them all at once and waiting for the next order, we will design, cut, and print 100 dresses in seven days, and refurbish them once they are sold out. This timely system allows fashion and home furnishing brands to have less inventory, reduce unsold items and Allow overselling If the product is successful", Guillaume Aillion, former CEO of Resilience (Making Masks While In Confinement) explains. This technical prowess is based on 3D digital design, which is transmitted directly to the production machines. And instead of buying raw materials model by model, the atelier only acquires ecru fabric – in knitting, warp, weft, etc. – In order to collect purchases. Each product from this catalog of materials will then be designed and customized with colors and patterns.

controlled growth
The purpose of the construction, which was installed on an area of ​​​​800 m²: 2.5 million euros turnover And 250,000 square meters of fabrics are produced annually thanks to its team of 25 employees. You may have to outsource part of the production, but it will centralize the picking. The site does not aim to do more. "This new paradigm has to remain agile in order to be responsive. This presupposes a company at a human level, in the city, that works locally with its customers. If the needs become more important, then it will be a matter of creating another structure", The General Manager is already considering serious leads in Paris and Lyon.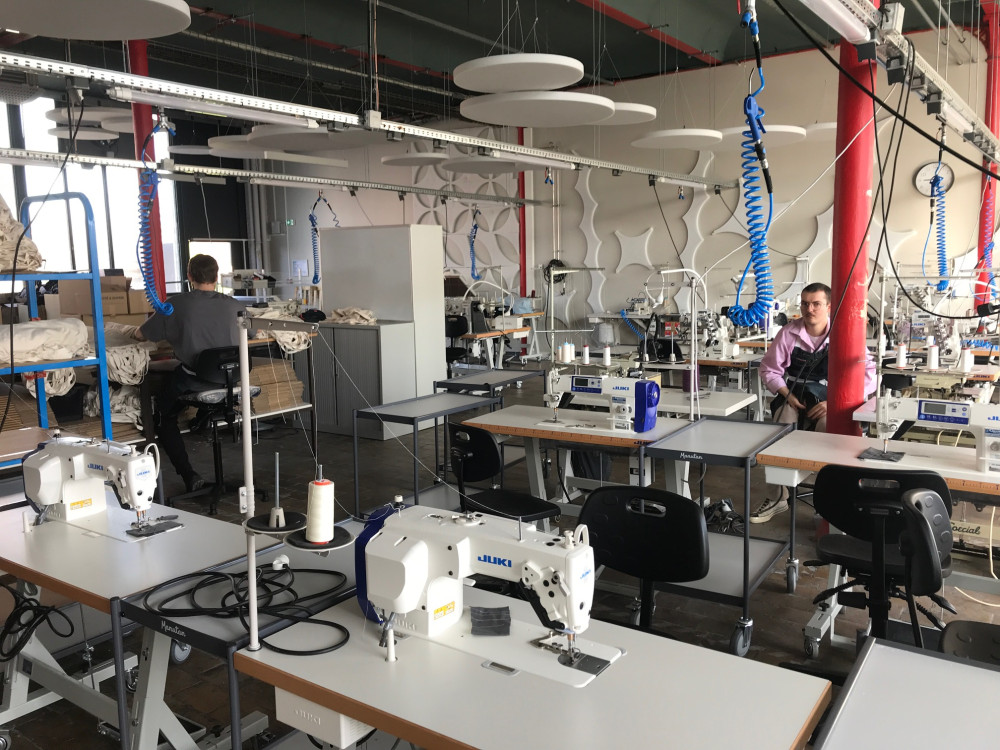 Competitiveness issue

For brands, the advantage of ordering an Agile workshop is also to reduce transportation costs, carbon impact, and participation in the industrial transportation of French textiles. The whole challenge then will be to make the products as competitive and attractive as those from Asia. "This will include a marketing strategy to promote Made in Roubaix products. But this can not replace 100% of Asian production for customers; This hybrid model that we offer,Guillaume Aelion reiterates his conviction that the textile sector must reinvent itself. With each batch, a third of the products remain unsold: a societal aberration according to him.
The embodiment of the "proximity industry"
investment €600,000 In the four new devices it was made possible thanks to the financial support of shareholders: Tissages de Charlieu, Lemahieu, îDGroup, Blancheporte and Fashion Green Hub. The latter is a consortium of 350 fashion and textile companies, which holds its first "factory nearby" in Hauts-de-France, entitled Plateau Fertile, specializing in circular fashion and labeled by the state in December 2021. Atelier Agile, located in the heart of the lush plateau thus becomes the concrete embodiment For the desire to develop third-tier production in the heart of the regions.