What are the new privacy settings in iOS 15?
iOS 15, the latest version of Apple's operating system, introduces new control settings to provide users with better privacy protection, especially at the level of their mailbox.
Email privacy protection
In keeping with the app tracking transparency introduced with iOS 14.5, the Mail Privacy Protection option (" Privacy protection in the mail ') is a feature intended to prevent email senders from tracking a user's activity in the Mail app in the background (whether an email has been opened, how often it is viewed, if it has been moved…).
In the Mail app, Mail Privacy Protection prevents the person sending the email from using web beacons to collect information about the recipient. This new feature prevents from knowing when a person opens an email, and masks the latter's IP address, preventing them from being associated with or locating their online activity, Apple explains in a press release.
The IP address or location is among the data that companies specializing in online advertising and e-mail may collect, in order to create a profile on the user's behalf. By activating this feature (Settings > Mail > Privacy Protection), this is no longer the case.
All remote content downloaded by mail is routed through multiple proxy servers, which prevents the sender from knowing your IP address. Instead of sharing your IP address, which could let the sender of the email know your location, Apple's proxy network will randomly assign an IP address that only matches the region your email is in. the device.
Concretely, senders of advertising emails will now only receive general information, and no longer accurate data on user behavior. This feature is available on iPhone and iPad, and is expected to roll out to Macbooks when macOS Monterey comes out, an official date that has yet to be announced.
Hide my email
Another novelty was launched with iOS 15 about confidentiality: Hide My Email ("Hide My Email"). With this option, Apple provides users with the ability to generate random email addresses so that they do not share their exact data with app developers or websites when creating an account or during the creation process.
iOS 15 also introduces a Privacy Report, which comes in the form of a dashboard, allowing you to see how apps use personal data. iPhone owners using iOS 15 can also take advantage of "Private Relay," a VPN-like access that hides your internet browsing history.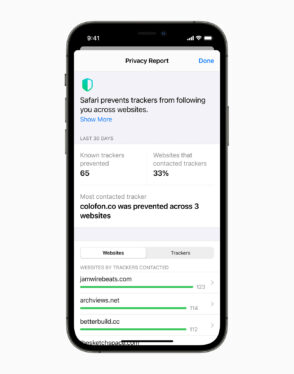 What are the real effects of these changes on marketing professionals?
Advertisers and marketing professionals are the main players affected by Apple's new privacy settings, as they rely on this different data to measure the performance of their campaigns and thus deliver targeted advertising to their audience.
With a total of 48% market share (37% on iPhone, 10% on Mac, and 1% on iPad), Apple Mail is the leading email client, ahead of Gmail (34%), Outlook (6%), and Yahoo.! Mail 4%, according to a Litmus August 2021 report. Note that users of gmail.com, outlook.com or yahoo.fr addresses can also use Apple Mail and be affected by this iOS 15 update.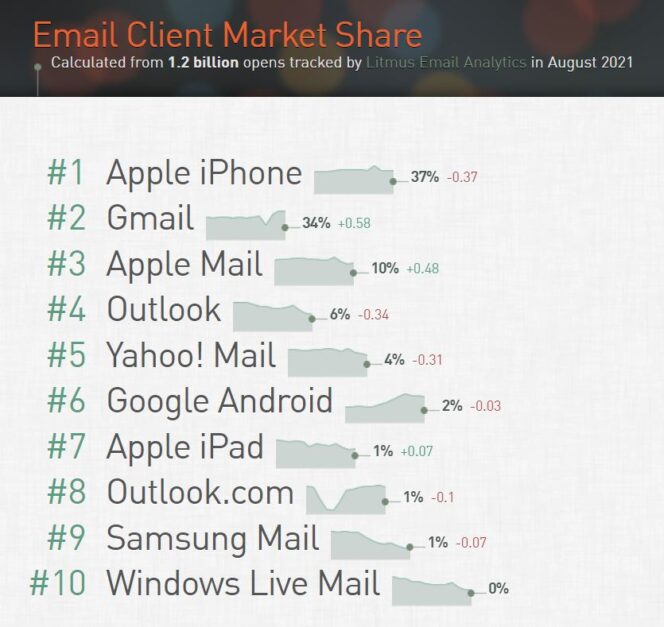 In addition to not being able to differentiate Apple Mail on iPhone, iPad, or macOS, data, such as the open rate or engagement rate (CTOR) of an email campaign, will now be distorted. To be able to continue to deliver relevant and personalized messages to their customers, niche platforms are already integrating parameters, making it possible to effectively measure campaign performance.
Whatever happens, our technologies make it possible to perform a very reliable analysis of the behavior of the recipients of campaigns sent by companies and organizations that use our email services, in particular thanks to the so-called statistical modification. We apply a computed ratio to estimate the slots for which we have no usable data. This is the case, for example, for users of Apple devices who refuse to be tracked under iOS 15, explains Sarbacane General Manager Paul de Fombelle.
Why is tracking still an essential component of email campaign submissions?
If users are more and more demanding respect for confidentiality and use of their personal data, the use of tracking remains the most effective solution to deliver relevant email campaigns and target consumers as much as possible.
We advocate this tracking, because it ultimately allows newsletter recipients to only receive information that matches their interests and habits, and to automatically opt out if they don't consult them, adds Paul de Vumbel.
Besides the limitations that Apple's iOS 15 update imposes on professionals in this sector, they have new opportunities to establish a relationship of trust with their subscribers, with complete transparency.
These changes will push us beyond vanity metrics for email open rates and focus on more useful metrics that show value (…) Instead of looking at this in terms of individual data loss, it gives us the opportunity to be more creative and use contextual approaches to connect with the right consumers to gain approval , adds Gail Whin, chief digital officer of dentsu Media at Adnews.