The advantage of marketing automation is the ability to adapt its communications and actions to each of its customers. With the right tools, you can simply improve each customer's journey, while automating most of the process for launching successful campaigns. Save time sending high-impact personalized messages and working on your customer relationship, while increasing your conversions.
In this article, the integrated digital marketing platform GetResponse MAX shares with you its tips for improving your customer experience from the ground up thanks to marketing automation.
Send personalized messages throughout the customer journey
Marketing automation has two main advantages: it allows more business efficiency in transactional emails, and allows you to create a personal customer relationship, thus more effective.
Emails tailored to your target give the impression that the message is written specifically for them, even though it is automated by the platform.
Your communications and actions are tailored to each of your customers to provide them with an individualized experience throughout the customer journey. All of your actions and messages are determined by customer behavior.
The importance of dynamic content and personal messages
Your marketing automation strategy should include dynamic content (products from your store, for example) included in your automated messages. Thanks to Dynamic Content You can send different emails tailored to your audience, engaging each contact in a dynamic customer journey.
Throughout the customer journey, you respond with customized actions, feedback, and suggestions defined by the customer's specific behavior. Each member of your audience then receives an automated, customized and dynamically configured message specifically for them, thus engaging them in a dynamic and automated customer journey. This strategy has a clear interest: it gives your audience the impression of a personal relationship with you, and encourages them to buy.
Dynamic content will automatically populate your custom post templates. In concrete terms, you can incorporate dynamic attributes like wish lists or items in the basket into your personalized messages, and automatically send the right products to the right audiences. You can do this without the need for any manual tracking, everything is automated.
Track web events to send the right message at the right time
Web event tracking allows you to track certain actions your visitors take and triggers your marketing responses automatically. The platform manages to send you specific messages, for each specific action.
Thanks to tracking, as soon as you launch a promotion with discounts on some of your products, and one of those products is on the customer's wish list, the two items sync up by themselves, without any interference. guide from you. By setting up your marketing automation flow to respond to web events you follow, once the sequence is activated, the correct email is sent to the correct segment of your audience, without any action on your part.
With dynamic content and web event tracking, you can send a personalized message to everyone who meets the specific requirements in your marketing scenarios, rather than sending a single mass email to all users telling them you have items for sale. You avoid ineffective group messaging, and only send personalized messages with strong impact.
An example of a marketing automation strategy with dynamic content
If the product is on a customer's wish list, and the product is now for sale (the product representing the dynamic content), then this web event triggers the marketing automation flow you set up and the correct message is automatically sent to the customer (and to all other customers in the same situation as him) . The feed will search for discounted items (no matter how many) and match them to items your customers have added to their Wish List.
The message each customer receives is customized according to their wish list and informs them that the product of their interest is now available at a reduced price. When the customer receives this email, he just has to click on the link to purchase the product, which doubles the effectiveness of the promotions offered.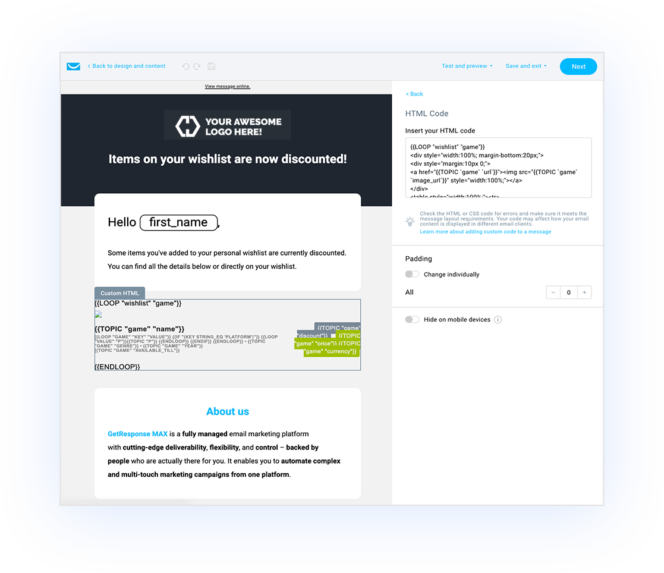 Marketing automation campaigns can go further, by configuring multiple messages to send, for example if the first message is not opened. Ditto, you can turn on sending messages if potential customers are browsing your products, but not buying them, or if they leave items in their baskets.
Discover the GetResponse MAX marketing automation solution
About GetResponse MAX:
GetResponse MAX is a fully managed marketing automation platform, offering deliverability, flexibility and complete control, with support service provided by a dedicated team.
This solution allows you to automate complex marketing campaigns using multiple touch points from a single platform. Their team of experienced account managers works with you to help you unleash the full potential of GetResponse MAX.
Contact GetResponse MAX today to set up your marketing automation strategy.